Geert Jan van Oldenborgh wanted to spend his "time here as usefully as possible", he said in an interview with this newspaper last July. Scientifically, that usefulness for him lay at the intersection of weather and climate. Van Oldenborgh investigated, among other things, extreme weather events – heat waves, downpours, droughts – and determined the role of climate change in them. He is seen as one of the founders of this branch of science, the so-called attribution.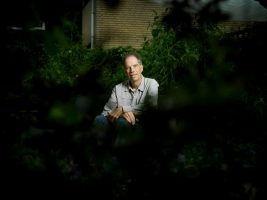 Since 2013, he has been doing that research knowing that he was suffering from Kahler's disease, a cancer of white blood cells. It limited him, sometimes to his frustration, but it didn't deter him. "When I work, I am distracted from the fact that I am sick, and I have a much better life."
Three times Van Oldenborgh received a treatment that allowed the disease to be temporarily suppressed, sometimes with a medicine that was just available. Last February, the cancer reappeared. He was not granted a fourth postponement. He passed away last Tuesday.
Van Oldenborgh started his physics studies in Leiden in 1980 and specialized in the physics of elementary particles. He obtained his PhD at the University of Amsterdam and then had a few postdoc jobs. When he couldn't find a new job, and applied to the KNMI in 1996 – and was hired – he quickly realized that he was much better off there. "In high-energy physics, I hadn't been nearly as useful to society."
In recent years, he helped to develop a new field
He himself explained that he had such an urge to be useful to society because he was able to go to Canada for a year after graduating from high school with a scholarship. At Lester B. Pearson College of the Pacific, near Victoria, he met teenagers from other countries. Also from developing countries, such as Egypt, Rwanda and Pakistan. He realized that everyone is part of humanity.
At the KNMI he almost immediately developed the Climate Explorer, an internet tool for climate research. He wanted everyone in the world to have access to weather data – temperatures, rainfall, sunshine. After some initial problems, it became an international success.
In the last fifteen years, he shifted his interest and helped to expand the new field of attribution. As an extension, he and others founded the World Weather Attribution, an international organization that investigates extreme weather events and the role of climate change in them. She did this, for example, during the unprecedented heat wave in western Canada at the end of June, and the floods in Germany, Belgium and Limburg in July.
In recent years, he began to receive recognition for all his scientific work. Last year he was awarded a visiting professorship at Oxford University. Last April he received an award from the European Meteorological Society for the development of the Climate Explorer. That same month he was made a Knight in the Order of the Netherlands Lion for his major contribution to climate science. And in September magazine appeared Time putting him on the list of one hundred most influential people, along with his German colleague Friederike Otto, for setting up the World Weather Attribution.
Myles Allen, professor of climate dynamics at Oxford University, praised in the magazine earlier this year Meteorological, the 'no-nonsense style' of Van Oldenborgh. If the human role in a remarkable weather extreme couldn't be proven, he just said so. He was not afraid to criticize others.
Van Oldenborgh himself called it his obsession with correct numbers. "I mainly see it as my task to provide scientific information that is as good and accurate as possible. If Geert Jan gives figures, they will be correct. That is the reputation I hope to have."